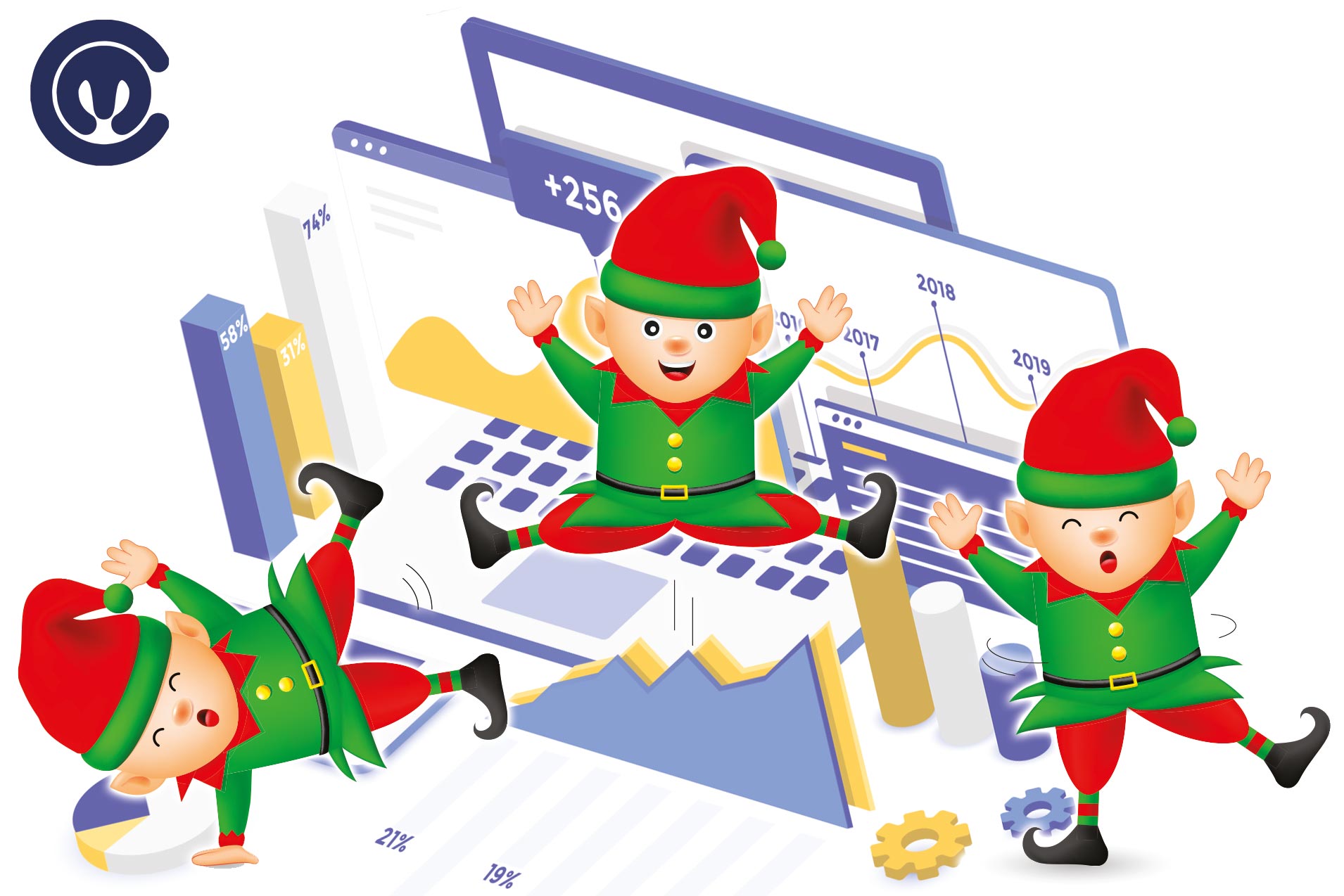 19 Dec

Keeping The Data Elves Happy This Christmas

Tis the season to be jolly, to shop and to eat, to make friends and reconnect with old ones. It's also the time that Santa and his crew are busy buying and wrapping presents for all the mums, dads, brothers, sisters and friends out there. But did you know that Santa has a secret squad, known only as the Data Elves, who spend the months leading up to Christmas whizzing around trying to make sure your personal data stays safe every time you type it into a shopping site? Well, this year the Data Elves contacted us directly, as they have some tips to help your data, both business and personal, stay safe and keep them happy this year.

Be Careful With your Receipts 

November and December are what we like to call the 'month of the killer receipts'. That's because even if you don't usually keep your receipts, Christmas causes people to hoard them. We want to make sure we have the receipt to take our Christmas lights back if they are faulty, and we squirrel away receipts for gifts just in case the gift isn't wanted, or turns out to be a duplicate. And businesses tend to keep more receipts than they usually would too – worried if bargain purchases from the Black Friday sales don't work, or just wanting to keep duplicates of customer receipts in case there are problems. It's a natural thing to do, and in most cases it's encouraged.

But while the Data Elves say that it's a good idea to keep these receipts, your wallet might not be the best place for them. With all the flurry of Christmas shopping and constant opening and closing, receipts can easily fall out of your wallet and find their way into someone else's hands. A receipt might not seem like much, but it contains a lot of information about you that can be used for criminal activities, including defrauding stores into giving fake refunds. Store your receipts somewhere safe at home – like a small lockbox or a file, and make sure you shred them when the warranty has run out, the item has proven to work or the gift has been a hit.

Stay Vigilant Online

Every year, the number of people doing their shopping online goes up, and this year is no exception. In fact, only 10% of people say they don't do any of their shopping online at Christmas – businesses included. With mobiles forming 80% of internet searches, online shopping has never been so easy. Needless to say, this is fairly common knowledge, and cyber criminals will use this information to their advantage. Try to avoid shopping online in public places this Christmas – most public Wi-Fi hotspots don't encrypt their data, making it simple for criminals to pluck your information from the coffee shop next door. This means NEVER checking your bank account on public WiFi, or accessing any business servers or customer data when you aren't on your own, secured network. It's not a risk worth taking.

You should also be extra vigilant about what links you visit too. The Data Elves have discovered that many URL's are shrunk to fit mobiles, which is great for usability, but not so much for security. It's much harder to tell that a URL is fake when it has been shortened to a bit.ly link, because you can't look out for the obvious clues like misspellings or odd domains. And because mobile devices don't have the robust anti-virus software computers do, they are much more susceptible to malware infections and viruses. If you're ever in doubt, type in the full link to where you want to go in your search bar and go there manually. It might take a little more time, but it's worth it to save your device from infection.

Dispose Of Old Technology Properly

Between Black Friday, Cyber Monday and Christmas/Boxing Day sales, both individuals and businesses can have a field day with technology and grab some real bargains. In fact we know many business owners who will wait until this time of year to upgrade their equipment, knowing they will get a better deal out of it. And there's nothing wrong with that – it's very savvy shopping. But it means you're left with a pile of old machines and devices to get rid of. To reduce your impact on the environment you should look at refurbishing or repurposing it, but you need to make sure you clear the data from it properly before you do. Rather than doing this yourself, we highly recommend getting an expert to wipe your data for you.

At Charterhouse Muller, we specialise in secure IT asset disposal services for all industries and businesses, large or small. Our experts can help support you in managing end of life IT equipment, from removing it from your office to refurbishing equipment and, most importantly, securely removing your data from all sorts of devices. If you would like to find out more about our end of life and asset disposal services, just get in touch with us today.